Fire on ice: 6 things that would have made the Amazon Fire a better phone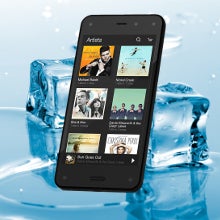 The
Amazon Fire Phone
event came and went, leaving mixed feelings regarding the handset. Though undoubtedly a very strong first foray in the world of smartphones for Amazon, some of its features left something to be desired not because of the overall package, which is pretty inventive, but mainly on account of
the flagship price tag that Amazon pinned on the Fire
.
As a reminder, the Amazon Fire Phone is a unique piece of hardware that comes with the so-called
Dynamic Perspective
System, combining the phone's sensors, like accelerometer or magnetometer, with four low-power infrared cameras at the front. The phone can thus track your eyes and face, and add perspective to the typical flat phone interface, for a 3D-like effect without glasses or parallax shenanigans. It also features the
Firefly
service that can recognize over a 100 million things - from songs and art to detergent - and give you real-time info on them, or let you get them (with Amazon's helping hand, of course).
The handset sports a 4.7" HD 720p display with high peak brightness, quad-core Snapdragon 800 processor, 2 GB of RAM, 13 MP optically-stabilized camera, and a dual stereo speaker set. Specswise it's a mix between a current and a last-year flagship, with only the screen resolution trailing behind, but the display performing where it counts - contrast ratio and outdoor visibility, says Amazon. Still, the $199 price tag for the 32 GB version on a two-year contract with AT&T means you can get any other flagship instead of the Fire, and so do the $649 asked for the device off-contract. At such a pricing level, you'd have to consider all the pros and cons about the Amazon Fire, and that's why, after we listed
all the new features
that come with it, we are listing 6 major grievances, too. Is there anything you would add or take out of the mix below?