Amazon Fire Phone: price and release date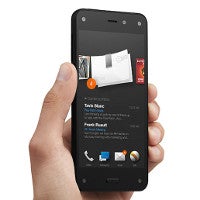 The Amazon Fire Phone,
announced minutes ago on-stage in Seattle
, is shaping up to be quite an intriguing device -- it's got a 3D display that is controlled by four front-facing cameras that track you face and change perspective accordingly, relatively high-end hardware, and a boatload of free, proprietary services. These include Mayday, which allows you to connect and chat with an Amazon customer service representative over video in less than 15 seconds, right from your phone; a full year of Prime membership (unlimited streaming of music, video); and
Firefly, which is a sort of like the Google Goggle app on steroids
.
So how much does a phone like that cost, and when and where can you get it? Thankfully, unlike certain manufacturers, Amazon was quite specific in both regards. The Amazon Fire Phone will set you back $199 for the 32GB model and $299 for the 64GB model, so long as you agree to a 2-year contract with AT&T. That's right, early information was correct in that AT&T will gain exclusivity.
Speaking of AT&T, if Ma Bell is your carrier of choice, you can also opt for AT&T Next 12 / Next 18-- $32.50 / $27.09 a month (32GB model) for 20 / 24 months and the ability to upgrade to a different, qualifying device in the next 12 / 18 months. The numbers for the 64GB model sit at $37.50 / $31.25 for Next 12 / Next 18, respectively. Luckily, the Fire Phone will also be available for $649 / $749 (32GB / 64GB) unlocked and contract-free.
As for a release date, sales of Amazon's first smartphone will commence on July 25th, which is a little over a month from now. That said, you can already pre-order it with AT&T.