Fed up with bleeding subsidy cash to Apple, Samsung and HTC, carriers rev the prepaid engines
36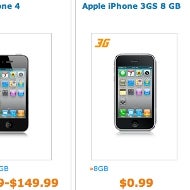 The business consultants from Pricewaterhouse Coopers have done an extensive North American carriers survey and if the results mark the start of a trend, the subsidy model might be in for a surprise.
Faced with declining customer loyalty, huge LTE infrastructure outlays and diminishing voice and text usage, carriers have to on top of those subsidize up to 2/3 of a smartphone price. A
T-Mobile exec recently raised a red flag about the subsidy model
, but was realistic enough to admit that it is not going away any time soon, as people are so used to it.
The survey found that carriers are fully aware about the inevitability of the subsidy model, but are trying ways to diversify from it, instead of just upselling people to smartphones - an exercise which didn't prove fruitful, as the average customer loyalty fell from 59 months in 2010 to the abysmal 48 months in 2011, and is still falling. Let's not forget one calculation according to which it used to take AT&T 17 months into a contract to recuperate the $450 subsidy for the iPhone.
Since the voice and text revenue is on a rapid decline, carriers are focusing more on data services and the next generation networks, says Dan Hays, U.S. advisory wireless leader, PwC:
There is significant pressure on carriers to migrate to the most efficient networks while needing to address the issue of spectrum scarcity. We are beginning to see carriers shut off legacy networks and force customers to migrate to new technologies. The challenge ahead will be to balance slowing subscriber growth and pricing pressure with investment in much-needed network improvements to enable the broader move to smartphones. To drive future growth, operators are expected to pursue new partnerships that create greater value for customers and consider network sharing agreements in order to prevent network redundancy.
The carriers are also increasingly looking into the
prepaid market
and creating lucrative offers for it, the way it is done in Europe - you pay the handset full price, but are not shackled by the two-year contract, and get good rates. As a result, their revenue from prepaid has risen with 30% over the course of a year. The networks are increasingly introducing buyback and leasing initiatives, as well as "bring your own device" policies to try and combat the bleeding of cash from the subsidy model.