Feature-phones FTW: First Samsung Intensity III photo appears
16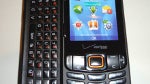 Do you remember the Samsung Intensity for Verizon? Yeah, that T-Rex of the feature-phone era - one of the last of its kind, actually... Well, guess what, a new model in the same series will be released very soon (as it was also indicated by its
recent appearance
in the CelleBrite system).
Apparently, those Intensity IIIs will soon be hitting the shelves, as an enterprising tipster has sent us the first ever photo of a Samsung Intensity III dummy unit. Whoa!
All joking aside, there are still a lot of people using feature-phones, so the Intensity III will sure be a welcome addition to Verizon's budget line-up. Plus, it's got a shiny physical QWERTY keyboard, which will make typing out
emails
messages a breeze... or at least, a bit more convenient than it is with a virtual one.
As far as other specs go, though, we know absolutely nothing. Still, that screen seems to be around 2.2 or 2.4 inches... Hmm. We'll leave the rest to you, guys.
So, um, who's getting an Intensity III?
Thanks, anonymous tipster!