Feast your eyes on some more Sony Xperia T aka LT30p "Mint" images before it's official
26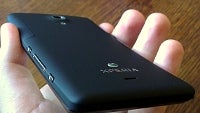 After a
thorough preview
of the
Sony Xperia T
aka LT30p "Mint" handset, we have had a few more pictures of it circling around the Internets. The
new James Bond phone
might be announced at
Sony's IFA 2012 event next week in Berlin
, along with the affordable
Xperia J
, so what you see here could very well be official then.
There it also might announce the
LT29i Hayabusa
for the international market, as it is currently strutting its stuff under the name
Xperia GX
back in Japan, but it is so close in terms of specs to the Xperia T, that we might very well see just one flagship announcement with different regional or carrier variants.
The differences between the LT30p Xperia T phone, and the LT29i Hayabusa are apparently design, with the T sporting a more compact, but heavier frame, with easier access to side buttons, and a sealed battery compartment, unlike the Hayabusa. The rest of the specs are a 1.5GHz dual-core S4 and a 4.6" HD Mobile BRAVIA display.
Recommended Stories