Fake Galaxy S8 pops up on photos again. Beware, this thing may actually be real and for sale
18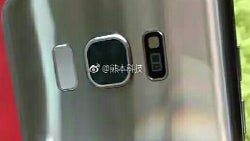 So, a few days ago, we saw photos of
a knock-off Galaxy S8
unit caught in the wild in China. Of course, despite the evidence of its existence looking pretty convincing, with these things, you don't know if it's a gag, a misplaced early prototype, or whatever else. However, today, a different source has leaked another set of photos of a fake
Galaxy S8
, and we may or may not see these boom in the near future.
The source is a Weibo (Chinese social media) poster, who uploaded the pictures of the handset, tagged with the simple sentence "Huaqiangbei is being abusive". The photos show a phone, very similar to the
leaked Galaxy S8
we've seen over and over again, with a few physical differences, and a very obvious software flaw – it's not optimized for the 2:1 screen resolution (notice the letterboxing).
Huaqiangbei is a district in Shenzhen, China, popular for its many electronics marketplaces and manufacturing facilities. In other words, it's a hub for smartphone makers, and it seems like Sammy has a contractor or a few working there. At least according to this post, it seems that the Galaxy S8 (or parts for it) is being assembled in the neighborhood, and it seems the factories (Or rogue employees, who knows?) decided to use the setup they have to make clones of the highly-anticipated phone.
Would you buy one of these, even if you knew that it's an absolute fake? We have to admit, we'd love to at least try it and see how it performs.