Facebook shows great resiliency in the face of a major scandal
5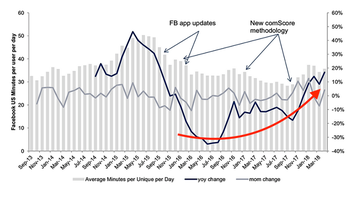 All of the things that Facebook is doing in order to keep members feeling that their personal information is safe and secure must be working. According to global securities house Goldman Sachs (based on data compiled by research firm ComScore), last month, in the midst of the scandal, Facebook saw a 7% gain in the number of unique U.S. mobile users to 188.6 million. In addition, the time spent on Facebook each day by these stateside mobile users also rose (see the chart at the top of this story).
Ad targeting is also trending higher since the scandal broke, indicating that the removal of 583 million fake accounts by Facebook didn't lower the reach of ads that companies pay for. Actually, ads on Facebook are reaching more people than before news of the scandal hit the media. In other words, the removal of these accounts will have no negative affect on Facebook's top line. These accounts were allegedly involved in Russia's plan to influence U.S. voters during the 2016 presidential election.
Shares of Facebook have also been resilient. From a price of $185.09 on March 18th, the day before the scandal broke, the stock traded as low as $149.02 on March 26th before closing Friday at $182.68. This means that Facebook's valuation has declined by only 1.3% during the worst period of publicity that the company has ever faced.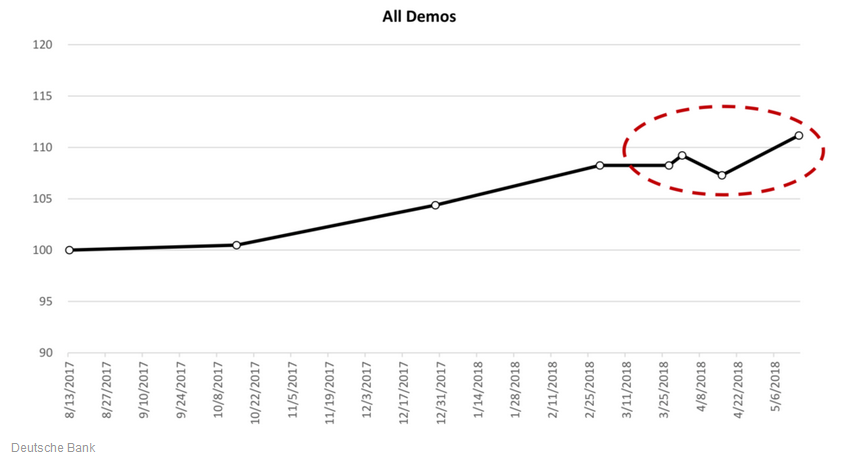 Despite tossing out 583 million fake accounts, ads on Facebook are reaching more viewers