Facebook and Twitter posts are now part of government security clearance
3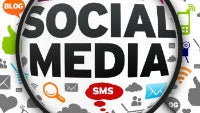 If you have any plans in the future to work for the government in any way, you'll have to be sure to either be extremely careful with what you post on social media, or at the very least take the time to go through and delete anything potentially offensive beforehand, because Facebook and Twitter are officially part of the government security clearance process.
According to a report, the government is going to begin scanning social media posts as part of background checks that go into a security clearance process. Some might be surprised that this wasn't part of the protocol before, but the Office of the Director of National Intelligence is just now making it an official part of the policy. And, the new guidelines could even extend to checking the social media profiles of your friends and family as part of the background check.
Luckily though, there will be limits to what the government can see. The policy will not allow agencies to force anyone to provide account information, login credentials, or any pseudonyms that you might use on various sites. Of course, agencies can still research and find you in dark corners if you're not careful. Also, this would mean if you don't make posts public, you might sneak by.