Facebook ad reminds you that Facebook Home can be turned off if you want to be alone
16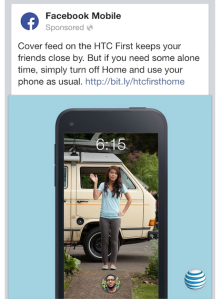 Facebook reminds users that Facebook Home can be deactivated
A post on the Facebook Mobile Page, which some received as a mobile ad, reminded those who have
installed the Facebook Home launcher,
or who are considering it, that it
can be deactivated
allowing users to return to their widgets. Deactivating the launcher also gives the user some quiet down time without having his or her phone constantly interrupted by Cover Feed. Those who have the
HTC First
, which is sold with Facebook Home pre-installed, also have the option of shutting it down and using the device like any other Android model.
Even though Facebook COO Sheryl Sandberg said at D11 this past week that those using Facebook Home are using the social networking site 25% more and are sending 10% more messages, the app has been a ratings flop at the Google Play Store where it is limited to newer top-shelf models.
AT&T is rumored to be dropping the HTC First
after
dropping the price
to a mere 99 cents on contract.
Earlier this month, we told you that many are blaming the poor planning behind the launcher, to the fact that
most Facebook developers are Apple iPhone users
and wouldn't recognize the importance of a widget if it jumped up and bit them on the derriere. There is talk that a new version of Facebook Home is in the works which will address the issues from Android users that has prevented the app from becoming well-received.
"Facebook Home is v1 of what we think is a very large transformation that we think will absolutely happen, which is rebuilding your phone around people.

The way [phones are] organized is still around activities and apps. We think that phones will be reorganized around people, and we think Facebook Home is the first version of that. We consider it v1, very early. We'd love if we could put out a v1 version and get everything right. The feedback we're getting is very bi-modal. If you look at our stars, we get fives and we get ones. We get almost no threes.

The people who love it, they're heavy Facebook users. They want that experience. Not only do they love it but the metrics are working very well for us. They're using Facebook 25% more and they're doing 10% more more messaging. So this is a win, both in terms of how this will drive our business and for them.

For the people who don't love it, they don't like how it takes over their phone. They don't like how the launcher re-organizes the apps they've already launched, but for the most part they actually like the two core features we launched which are Cover Feed and Chat Heads. So what we are doing is getting that feedback. I don't know how long it will take. I think it will be a long road. but we really believe we're on a path to making phones more social."-Sheryl Sandberg, COO, Facebook
source:
TechCrunch