Facebook Hello dialer for Android wants to make your smartphone smarter
7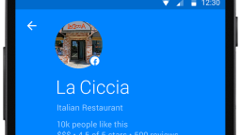 Facebook seems to think that your Android phone is rather bad at being... well, at being a phone. That's why the company today launched its very own dialer app for Android (we
already knew
that this would eventually arrive). Called Hello, the new dialer connects with Facebook in order to make your handset "smarter" and "great at being a phone."
By gathering info from both your phone and your Facebook profile, Hello lets you see who's calling (even when you don't have certain numbers saved in your phone), search for places and people on Facebook, and even block unwanted calls. When someone calls you, their latest Facebook profile photo and updated info (including birthdays) show up on the screen. Moreover, the new dialer app offers free calling and texting via Facebook Messenger.
You can download Hello for free from Google Play starting now (see the first source link below). Facebook didn't say when, or if it's planning to make the app available on iPhone or Windows Phone.
Will you give Facebook Hello a try? Do you think it can be better than Google's dialer app, or other
popular dialers
that have been around for years?
sources:
Hello
(Google Play download link),
Facebook