Facebook to add Tinder-like feature to its social apps soon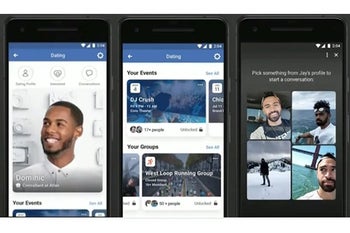 Facebook teased the
addition of a dating feature back in May
, but we thought it will be launched as a separate, standalone app. However, we've just learned that Facebook's Tinder-like feature will be implemented directly within its social apps.
The so-called Dating feature will be based inside Facebook's main app, TechCrunch has learned, along with its other functions that aren't seen on the display. Although the feature is not yet available for prime-time,
Facebook
confirmed that its employees are already testing it.
Facebook Dating will allow users to see other people who have also turned on this feature. Once you enable the Dating feature, it will not show up in your News Feed for everyone to see, you'll simply start seeing others using it.
Also, you'll be able to choose if you want the friends of your friends to see you as well. The report also claims
Dating profiles
will allow non-binary, transgender and orientation options. There will be Groups and Events available too, and you will also be able to browse potential matches based on the info Facebook already know about you.
If you find a person that you think it matches your profile, you can text each other via Messenger or
WhatsApp
if that person expresses a similar interest in you. However, it appears that Facebook plans to limit the number of people you can express interest in to avoid a spammy behavior. Also, if you block someone on Dating, that person won't be blocked on Facebook too.
The Dating feature won't cost anything and won't show ads, but Facebook might reconsider the monetization status later on. It's also worth noting that the feature will be 18+ only in the United States.