FCC reveals the Samsung M910, the Moment2 is around the corner?
4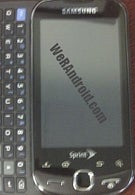 Do you remember that
exhaustive list
of cell phones for Sprint that was leaked on the Internet? Yes? Cool. And what about that piece of news that had it the Samsung Moment2
resembled the original
? You do? Hm... well, done!
You must be wondering what these two have in common, right? Well, the yet to be announced
Samsung SPH-M910
has surfaced at FCC and we already suspected (that's one of the things that got mentioned in said list of handsets for Sprint) the cell phone is none other but the Moment2. The rendering found in one of the documents resembles the shape and overall design of the device we saw in the leaked picture. Unfortunately, there is still no information on the hardware specifications of the M910. Supposedly, it will be based on Android 2.1 and TouchWiz 3.0. Now that it has received FCC's blessing, we can expect to see the Samsung SPH-M910 hit the shelves soon, although not until the manufacturer has announced it officially, of course.
source:
FCC