Ex-Apple CEO, John Sculley, says Apple is to get even more successful
14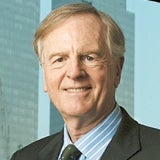 John Sculley, responsible for Steve Jobs' ousting from Apple in 1985, has recently said in an interview for CNBC that today's Apple is run very well, and that the company is actually going through a transition from once-a-year product launch cycle to a twice-a-year cycle. Interestingly, Sculley believes that once Apple completes the transition, it will be in the position to be incredibly successful (even more than now).
According to the former Apple executive, investors and shareholders don't have a reason to be worried about Apple's general performance now that the company is run by Tim Cook, as design head Jony Ive is constantly introducing new ideas, so Apple hasn't really run out of creative potential.
I think they're going through a very significant change now in terms of product cycles. Traditionally Apple introduces products once a year; now it's really introducing products twice a year. The complexity of that from a supply chain is immense, and Apple seems to be doing it well. So, I think that people are underestimating just how well Apple is run, and just how successful the company can be when it gets to that twice-a-year product introduction cycle.
via:
TUAW