Apple tells Foxconn and Pegatron to forget about opening additional production lines for iPhone XR?
80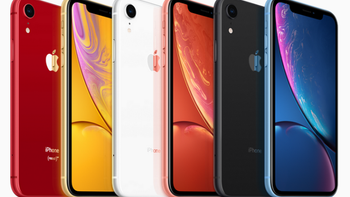 Most analysts expected the "more affordable"
Apple iPhone XR
to grab the majority of new iPhone sales once the phone was released on October 26th. That's because of the model's pricing, which starts at $749 for the 64GB version compared to $999 for the comparable
iPhone XS
unit, and $1,099 for the 64GB
iPhone XS Max
. While the iPhone XR has the same A12 Bionic SoC under the hood, and carries most of the same features as its more costly siblings, it does not have 3D Touch and it sports a single camera on back. The iPhone XR also is equipped with a 6.1-inch LCD display compared to the 5.8-inch and 6.4-inch AMOLED displays used on the iPhone XS and XS Max, respectively.
But something has gone haywire with these analysts forecasts. It appears that the iPhone XR is not selling as well as anticipated. Recently, banking and securities firm JP Morgan told its clients that it now expects the cheaper 2018 iPhone model will account for 39% of new iPhones sold in the second half of 2018, down from a previous forecast of 47%. Longbow Research says that
Apple is cutting its orders by 20% to 30% for the iPhone XS Max and iPhone XR
. Instead, the company is raising orders for last year's iPhone 8 and iPhone 8 Plus.
Today,
a new report from Digitimes
states that two contract manufacturers used by Apple to produce the iPhone XR, Foxconn and Pegatron, have been told by Apple not to add additional assembly lines for the phone. Apparently, both companies had been previously told by Apple to be ready to add new production lines for the iPhone XR. However, those lines are not going to be needed.
The weaker than expected demand for the handset that was expected to be the best selling new iPhone during the holiday shopping season has investors dumping Apple's stock. From a closing price of $215.42 on the October 26th launch date of the iPhone XR, Apple's shares closed Friday at $193.53 for a larger than 10% decline.