Epic Arena hands-on
1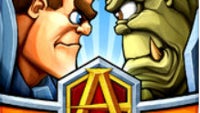 It takes some serious thinkers to master strategy and tactical based mobile games, since it requires patience and foresight to anticipate moves that would prove to be advantageous to your position. At PAX East 2014 in held in Boston over the weekend, we snagged a quick hands-on look at the new combat game Epic Arena that recently launched on the iPhone and iPad. Quick thinkers and multi-taskers will undoubtedly appreciate the game's asynchronous gameplay, which allows you to play several games at once – working at your own pace and time.
Let's be frank here folks, for those used to playing fast paced action games, they won't find Epic Arena agreeable, but if you're on the opposite side of the spectrum, one that demands patience and long term thinking, you'll absorb everything that Epic Arena has to offer. Part card game, part combat strategy, Epic Arena puts you in control of a team of fantasy adventure characters that are needed to battle against your opponents. The objective of the game of this player-versus-player game, of course, is to defeat your opponent by optimizing your strategies to best encounter and engages your enemies.
For a strategy card game, we got to admit it blends the strategy card game aspect of the title with some slick looking 3D visuals – giving it a fair amount of visual flare as we execute commands and magic attacks against our foes. As we've stated earlier, the game requires focus and patience with its asynchronous gameplay, seeing that we're given the option to play multiple games at once. In fact, depending on your opponent's engagement, games can last up to several day – so every action you take up on can have a result that reverberates deeply.
Currently, the game can be played via Facebook or through an iPhone or iPad. Obviously, it's a free-to-play title, but enhancements and techniques for characters can be bought through in-app purchases – enabling the player to gain an even stronger band for the battles ahead. You can take a quick peek at the video below showing the game running on the iPad. It's worth noting, too, that Epic Arena will become available in other markets around the world this summer.