Elaborate MediaTek Helio X12 SoC details leak, showing a powerful upper mid-range chipset
8

What do you know, it's December already! This means hardware manufacturers' plans for next year products are showing up on the Internet, trickling down official and not so official channels. In our case, we have a well-informed leakster tipping off our colleagues at G For Gadgets about Taiwanese silicon slinger MediaTek's next upper mid-range tier chipset, the Helio X12.
At a glance
An upgrade to the
Helio X10 platform
, which powers a number of smartphones for the Asian market, such as the
HTC One M9+
, the
Meizu MX5
, and the LeTV Le 1, the Helio X12 is shaping up to be a competent successor! Luckily for all you specs-mongers out there, the source has given out fairly elaborate details about the upcoming chip, which — assuming that the information is legit — would let us get a complete preliminary impression about the Helio X20's place on the near-future microprocessor market.
At the heart of the CPU lie eight ARM Cortex A53 CPU cores, able to work simultaneously, and with a maximum clock speed of 2.2GHz each. The CPU is accompanied by an Imagination GX6250 graphics unit that's clocked to 750Mhz and supports the latest OpenCL 1.2, OpenGL ES 3.2, and Vulkan APIs, enabling the latest and greatest graphical effects. Its performance should hover slightly above that of the Adreno 330 GPU found in Qualcomm's Snapdragon 801 SoC, therefore letting demanding games from last year run fluently. More recent titles, though, will probably run somewhat choppy.
RAM memory support is limited to dual-channel LPDD3 modules clocked to 933MHz, which seems a bit outdated in a world where we have speedier and more power-efficient LPDDR4 memory. But the flash storage support for the
latest eMMC 5.1 standard
sort of makes up for that, allowing for an increase in simultaneous input/output operations per second, along with a maximum write performance of 125MB/s (whereas the previous version was limited to 90MB/s).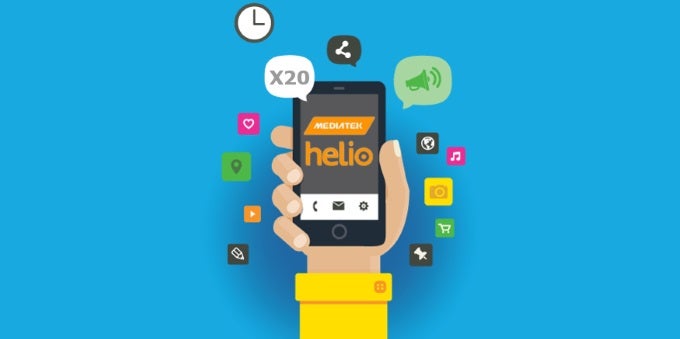 These main points of interest aside, MediaTek's new solution incorporates two image signal processing sensors, supporting up to 21MP cameras and the firm's proprietary TrueBright engine, which supposedly lets RWWB sensors capture twice as much light as traditional RGB sensors, as well as implementing de-noise, de-mosaic, and video face beautify filters, among other image enhancement tweaks. There's also an LTE Cat. 6 World-Mode modem with VoLTE and Wi-Fi Calling support, which should enable download speeds of up to 300Mbps across the globe.
The Helio X12 chipset will be manufactured on TSMC's new 28nm HPC+ node. 28HPC+ is an improved version of the fab's 28HPC (High Performance Compact) process. The 28HPC process preceding HPC+ was deployed late last year, providing a 10% smaller die size and 30% power reduction, compared to TSMC's earlier 28LP process. 28HPC+ iterates on that with 15% faster speed and a 30 to 50% reduction in current leakage.
Comparison with MediaTek Helio X10
Compared to MediaTek's previous generation Helio platform, the X12 SoC offers slightly higher CPU clock speeds and improved battery efficiency, owing to TSMC's new manufacturing process. The GPU offers higher efficiency and support for more recent graphics APIs. The storage upgrade to eMMC 5.1 was explained above and is still very welcome.
We also have support for 6 additional LTE bands, much faster USB speeds (thanks to the USB 3.0 support), image processing improvements (including the addition of HDR video recording), and support for VoLTE & Wi-Fi calling among other, more minor upgrades.


Preliminary benchmark scores

The informant provided early benchmark scores of the Helio X12. The scores of 55,000 (AnTuTu), ~1100 (GeekBench single core test) and ~5400 (GeekBench multi-core test). This is actually in the ballpark of some of this year's Qualcomm Snapdragon 810-powered smartphones, such as the HTC One M9, which posted a score of 56,896 points. Of course, benchmark results only provide one perspective over a piece of hardware's performance abilities. But by the looks of it, the Helio X12 is quite the capable upper mid-range platform, and we expect the likes of Meizu and Xiaomi to make good use of it in upcoming smartphones of theirs.




According to the gossip, Xiaomi is about to release an Android smartphone with a 5-inch display, that's based on the X12 SoC. This could turn out to be the in-the-making Xiaomi Redmi 3 (not to be confused with the already released Redmi Note 3). Unfortunately, we don't know anything about this device yet, but then again, Xiaomi could be making a different device altogether.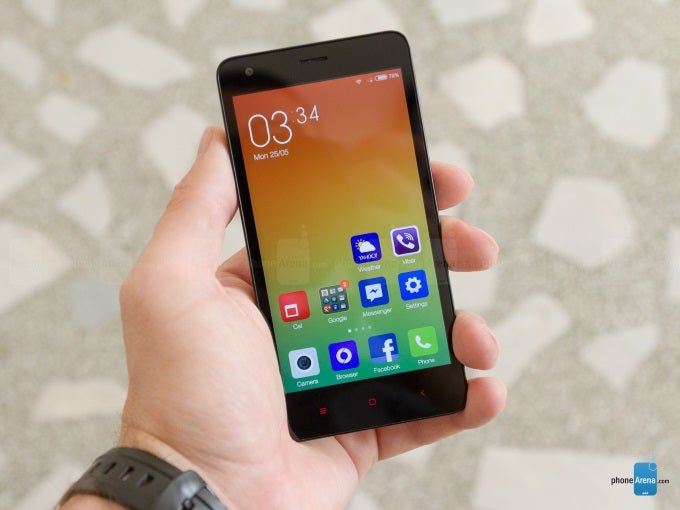 The Xiaomi Redmi 3 could be among the first phones to employ MediaTek's Helio X12 SoC. Pictured — Redmi 2.
source:
G For Gadgets