Cases and schematics for the iPad Mini leak, promise a 7.3mm thin body and a rear camera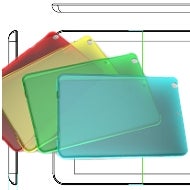 After numerous leaks about the
iPad Mini
lately, we now have something that claims to show us the true dimensions of the device. The schematics, purportedly given by an Apple supply chain source, show the 19-pin dock connector and the two speaker grills that flank it, which we've seen in
all other leaks before
. There is also a rear camera of unknown resolution.
The new info, however, is the size - the iPad Mini is shown to be just 0.29" (7.3mm) thin, almost as slender as the
iPod touch
, which will make it the slimmest slate on the market. It is also allegedly 5.3" (134.7mm) wide and 7.87" (200mm) tall.
Next, the source calls the screen size 7", whereas
all we've heard so far is 7.85"
, which is closer to 8", and says a case maker has provided it with exclusive photos of the wrappings it is producing for the iPad Mini. They are in your usual assorted colors, and reveal the places for the eventual ports and buttons on the device. We are putting them all in the slideshow below, followed by all the alleged pics of the device's chassis that leaked so far for comparison.
source:
ThinkiOS
Cases and schematics of the iPad Mini leak, promise a 7.3mm thin body and a rear camera