Edifier Sound To Go PLUS hands-on
2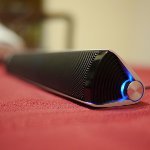 In this day and age, it's quite common to see an abundance of wireless Bluetooth speakers, especially the kinds that are portable and easily carried along for a trip. Still, every once in a while, a wired speaker of some sort somehow magically appears on our desk, tempting us to check it out – and that's despite the obvious that it's going the wired connection route. But hey, if you're looking for something that'll pump out better and more flavorful tones, then this is something that might catch your eyes.
Appearing very much like a speaker,
Edifier's Sound To Go PLUS
is a basic solution that's sure to appease some people out there – albeit, it would've been something more if it were somehow Bluetooth connected. Regardless of that, it's solidly constructed thanks to its
brushed aluminum body
, which we might add is also packing some serious weight! So much so that it can really knock out a person with a quick swing! On the front, the speaker grill tucks away its
2 channel stereo with 2 full range 1.25" drivers on each channel
. Also, it's worth mentioning that it features a built-on "
Class D
" amplifier to give your ears something to notice.
Along both sides of the speaker, there are circular sized buttons for volume up and down, which turn on the thing when they're pressed simultaneously for 5 seconds. Additionally, a miniUSB port is used to charge its internal lithium-ion battery, while a 3.5mm auxiliary jack enables us to connect a wide array of devices to it – such as smartphones, MP3 players, and laptops. No doubt, its audio quality is extremely more
robust and full bodied
when compared to the meager tones put out by a Samsung Galaxy S III. Finally, it's rated to provide
10 hours of battery time
with a full charge, which is impressive to say the least compared to the lower times available with other wireless solutions. Therefore, when it comes down to it, the Edifier Sound To Go Plus will get the job done – albeit, we still yearn for a wireless option. Then again, at
$49.99
online, some might see the value in it all.