Early Sony Xperia X unboxing reveals some very colorful packaging
19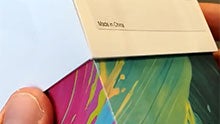 Sony's next smartphones are just around the corner, as the
Xperia X
, Xperia XA, and
Xperia X Performance
all get ready to hit retail over the course of the next few weeks. We've
only just seen pre-orders open
for the models (most recently
in the case of the Xperia X Performance
), but now we're already getting an early look at these phones might be arriving, as an unboxing video reveals some surprisingly colorful packaging.
Flash back to last fall, when
we unboxed the Sony Xperia Z5 and Xperia Z5 Compact
, and you'll recall some bland, uninspiring boxes: Sony gave us a nice picture of each phone up front, but vast stretches of white resulted in an otherwise featureless expanse of packaging.
For the Xperia X, by contrast, it looks like Sony has finally gotten comfortable with a touch of color. While we start out with another plain white box, popping off the cover reveals a refreshing splash of color, with its sides plastered in vibrant hues.
The designs Sony's going with here should look pretty familiar to smartphone fans who have already taken a look at the Xperia X family, as they appear to be the same designs we've seen featured as phone wallpaper in Sony's official renders.
Of course, it's entirely possible that this early hands-on somehow represents pre-retail packaging (the box
is
clearly labeled as a demo unit), and Sony will change things up in time for the arrival of the first Xperia X handsets in stores, but we're hoping that's not the case as we quite enjoy what we see: compact, colorful – what's not to like?
source:
MereMobil.dk
(YouTube) via
Xperia Blog