Each iPhone 5 would cost about $270.10 to produce, according to estimates
33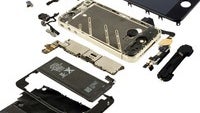 We are pretty sure that a great deal of our readers will go out and grab an iPhone 5 not long after it hits the shelves this fall. They would also drop a significant amount of cash on the shiny new smartphone and will most likely commit to a 2-year agreement with their carrier of choice. But how many of them would ask themselves how much money has Apple actually put into the device?
Well, according to the team of industry analysts at
Bloomberg
,
each 16-gig iPhone 5 would hypothetically cost Apple around $270.10 to produce
with software, research and shipping costs included in the estimate. Sure, the real figure might be completely different as the next-gen iPhone has yet to be released and torn apart, but it is not impossible for
Bloomberg
to be using insider information in its analysis.
If the estimate turns out to be correct, however, every iPhone 5 that gets shipped to a US carrier would yield about $350 in profit going straight to
Apple's already fat wallet
. In comparison,
the iPhone 4 was said to be built using only $187.51 worth of components
, yet this estimate does not take into account anything beyond the pure cost of its hardware.
We have to clarify that the graphic presented here has been found on Bloomberg's servers, but a complete written article on the topic has yet to be published by the media. However, we will be keeping an eye on it and will update you should any other interesting information gets unveiled.
source: Bloomberg via
SlashGear
Bloomberg's hypothetical cost breakdown of the iPhone 5