Drop test battle features the Samsung Galaxy S6 edge vs. the Apple iPhone 6
99+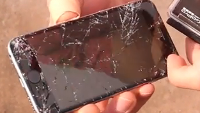 Nothing ruins a smartphone owner's day more than accidentally dropping his handset onto a hard surface. The first thing you worry about is the screen. Did it crack? Will it still track your finger? If you dropped the phone on its back, you might be concerned with scratches on your camera. Of course, dropping your pride and joy could also leave permanent scars on the casing of the device. And every time you take a glance at the damage, your emotions instantly transport you back to that moment when gravity replaced your grip and your phone started tumbling to earth.
Two flagship handsets squared off in a new drop test. The
Samsung Galaxy S6 edge
and the
Apple iPhone 6
compete to see which model will hold up best for a klutzy owner. The first test is a waist-high drop that simulates a fall from the side pocket on a pair of pants. From this height, both devices held up well with some scratches on the edge of the two handsets.
The second test was done from head height to simulate a user dropping his handset while on a call. The iPhone 6 held up extremely well with nary a mark or nick on the device. While the Galaxy S6 edge managed to avoid damage to the screen, some marks were visible by the home button and along the edge of the unit.
Next up for the two flagship models was a ten-foot drop test. Would this be the fall that finally does in the iPhone 6 and the Galaxy S6 edge? The sapphire glass camera on the iPhone 6 was fatally damaged by the drop while the Galaxy S6 survived with all of its glass intact. It wasn't until the face down waist high drop test that the screen on the iPhone 6 finally gave in (although it was still useable). The Galaxy S6 edge suffered a small scratch on its screen after the head high face down drop. By the end of the video, both phones had severely cracked screens.
Click on the video below if you want to cringe at the sight of two great looking phones taking it on the chin repeatedly.
Thanks for the tip!
source:
EverythingApplePro