Droid 4 ICS update approved by Verizon, complete with changelog
19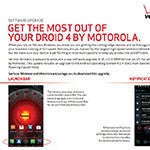 Last week's
soak test
for the Droid 4 must have proceeded without incident, as Verizon has produced their official "Get the Most out of your Droid 4 by Motorola" change list that they make available to customers to promote the upcoming OTA. As a general rule, once the changelog hits it's usually no more than a week or so until the update rolls out.
The main feature of the update is Android 4.0, Ice Cream Sandwich, and the latest version of MotoBlur (which is now much less intrusive and actually useful in some ways), but there will be plenty of other enhancements coming with it, including global roaming capabilities, improved stability, and improved ringtone customization.
The timing could make the second half of August a pretty crowded time for updates on Big Red's network, as
according to HTC
there will be ICS updates coming to the Thunderbolt and Droid Incredible 2 by the end of the month. With OEMs finally pushing out their long-promised ICS upgrades to last year's popular phones, and current sales dominated by the likes of the Galaxy S III and HTC One series, we expect to see Android 4.0 start to make some serious inroads into the market share held by Gingerbread in the next month or two.
Meanwhile, Droid 4 owners can start to obsessively check their phones for updates now!
source:
Verizon
via
Droid-Live