Down but not out: Microsoft's CEO admits company missed the mobile phone, discusses future
21
By today, it's no secret that Microsoft's venture into mobile phones hasn't been exactly stellar. The company had high hopes back when it acquired Nokia's mobile division, hoping that it would use the fame of the Lumias as a perfect vessel for its own mobile Windows operating system. However, Windows-toting smartphones just failed to launch. Lingering around having only about 3% of the market share, it was tortured by a lack of interest by developers to build apps for it and a few buggy updates, which caused many to turn away.
Earlier this year, Microsoft effectively called it quits on building phones — it sold the rights to the Nokia smartphone brand to HMD Global, which is a partner of Nokia Technologies. So, in other words — Microsoft just "
gave the name back
". It then also sold the manufacturing facility it used to build Nokia feature phones in to a Foxconn subsidiary. As the deal was announced, Microsoft said that it will continue to develop Windows 10 for mobile and will keep supporting 3rd party manufacturers who build Windows phones. While the statement didn't say it directly, it implied that Redmond is done with building handsets.
This Monday, Microsoft CEO Satya Nadella appeared at the opening dinner for the Wall Street Journal's WSJDLive conference. There, he admitted, probably for the first time so openly — "We clearly missed the mobile phone, there's no question". But the company hasn't lost its drive to look for new categories to develop for and become an industry leader in. For example, Mr. Nadella said that he sees great potential for VR and AR in the nearby future. And yes, we do know of Microsoft's
HoloLens
— a pretty impressive set of augmented reality hardware that looked really cool when Microsoft presented it last year. However, it's still in development. Funny enough, Nadella mentioned that HoloLens could be the beginning of an ultimate computer, based on a sort of a mixed reality. We sure hope he isn't thinking SkyNet here.
Of course, the Microsoft CEO also took the time to honor the fact that despite their lack in popularity, Windows 10 phones do have their place in the market as niche devices that fulfill specific needs. "We have a phone that in fact can replace your PC", said Nadella, referencing the
Continuum
feature, which allows us to use a high-end Windows 10 smartphone as a basic Windows PC. And we have to agree — surely there are professionals out there right now who are enjoying the feature.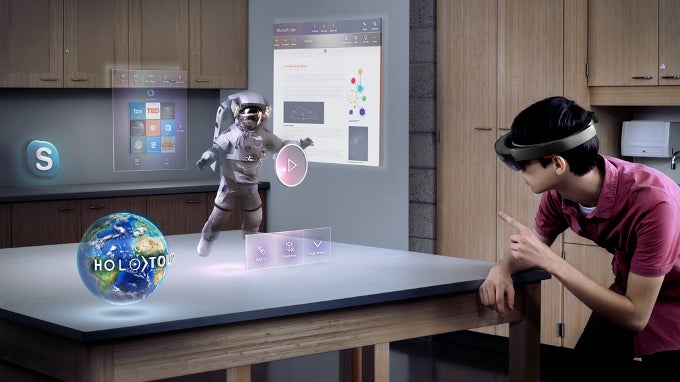 source:
Mashable