Double the battery life of Galaxy S6 and others with PhoneSuit's snap-on Flex Pocket Charger
7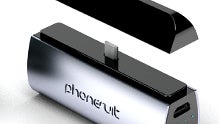 Out in the boondocks, and the battery of your unibody
Galaxy S6
running out? Hey, you can always carry a power bank, but, you know how it is - you usually forget the cable to connect your phone to the power bank, unless you got a model with a retractable USB cable inside.
Enter PhoneSuit's Flex Pocket Charger - a clever take on the honey-I-forgot-the-cable conundrum. It's a tiny power bank with 2600 mAh capacity, which is enough for juicing up most phones, and certainly enough to double the battery life on your Galaxy S6, too. The beautiful idea here is that the Flex Pocket Charger is a snap-on endeavor, complete with its own microUSB connector. You just remove the cap, snap the charger on your Galaxy S6, or any other Android phone, and you are good to go for another day or so.
PowerSuit has a similar contraption for the iPhone as well, this one with a Lightning port, and twenty bucks more expensive than the $49.99 asking price of the Android Pocket Charger.