Don't take one new Android Wear commercial too literally
6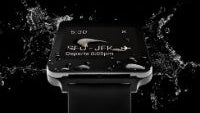 If you noticed, Google released
four new Android Wear commercials
yesterday that showed off various uses of the new smartwatch platform, including notifications, and various voice commands. But, you would be best served to not take one of the commercials too literally. Specifically, we're talking about the commercial with the two surfers.
In the commercial, there are two people at the beach and they are about to call it a day, but one checks his LG G Watch to see that traffic is light, so they decide they have time to go for "one more run". The older surfer gives the shaka sign, and starts heading for the water. Obviously, we're to assume that the older gentleman took off his plaid shirt before hopping in the water, but we should also assume that the other guy took off his G Watch, because that device is not allowed to go in the water.
The LG G Watch is rated IP67, which means full dust protection and light submersion up to 1 meter for 30 minutes. However, that rating does not apply to sea water. Salt water is absolutely terrible for electronics, and the official LG G Watch manual specifically warns against wearing the device in the ocean. So, best to not take the commercial too literally.