Don't like the LG G5? An unlocked G4 can now be bought for less than $300
15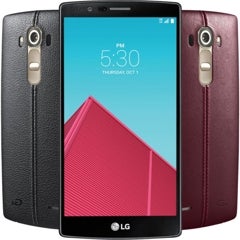 LG's brand new
G5
flagship smartphone is launching this week around the world, but maybe some LG fans aren't really excited about it. If you're among them, you might want to know that the
LG G4
(the company's flagship of 2015) is now cheaper than ever in the US: an unlocked unit can be purchased for as low as $289.99 via eBay - that's $60 cheaper than the price most retailers are currently asking ($349.99).
The number of LG G4 units available for just $289.99 is limited, so you may want to hurry if you think this is a good deal. Mind you, this G4 comes with US warranty, should work on all major carriers, and is offered alongside red and black leather rear covers.
Of course, the LG G4 can't really stand next to the G5, as the latter is more powerful and advanced - thanks to features like a Snapdragon 820 processor (versus the Snapdragon 808 found inside the G4), 4 GB of RAM (versus just 3 GB), and a 16 MP dual rear camera. Nevertheless, $289.99 is not a bad price for the G4. To see how the two LG smartphones stack up against each other, check out our
LG G5 vs. LG G4
article.
Let us know if you're tempted to buy an LG G4, will you?