Does the GPS not work on your Pre Plus and you don't know where to turn?
2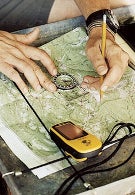 It seems that some of those who have purchased the Palm Pre Plus from Verizon are having trouble knowing where they stand. On the phone, that is. Ok, enough puns for now, this is a serious matter. The GPS on the Pre Plus is showing the user to be several yards to several miles away when using Google Maps as the phone seems to be using aGPS instead of the more precise satellite version. Some users have been able to fix the problem by turning on VZ Navigator and then closing it before agreeing to pay the monthly service charge. This suggests that the Verizon app is able to get the satellite-GPS connection going. And before Big Red takes the blame for this (they are locking down the GPS again!) , be advised that the same issue is happening to Pre Plus owners on Bell, up in Canada. Sprint Pre owners have not had this problem nor have those Pixi and Pixi Plus users. Have you had problems with your Pre Plus GPS tracking you in an inaccurate fashion?
Another problem that Pre Plus users have been dealing with is the handsets refusal to send MMS via Wi-Fi. Again, not a problem for Sprint users. For those using the Pre Plus over Verizon's network, the answer is easy if not somewhat a royal pain-turn off Wi-Fi before you send the message and let it go over Verizon's Ev-Do pipeline.
Palm Pre Plus Specifications
|
Review
source:
precentral
via
BGR