Do Android's shipment figures overstate the platform's market share?
34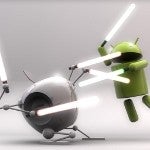 According to stats compiled by web video network provider, Ooyala, the Apple iPhone accounts for
67% of video viewed over a smartphone
with Android kicking in the remaining 33%. But those stats don't make sense at all when you consider that according to IDC, Android flavored smartphones account for 68% of shipments with 19% belonging to iOS over the same time period. What could this mean? Is there even a reasonable explanation for this?
The answer could be that the data measures the number of hours spent watching video rather than the actual number of videos viewed. That would then mean that iOS users watched videos for twice as long as Android users. And if that is the case, the next step would be to determine if there is something different in the make up of iOS owners vs. Android owners that makes them more likely to view videos on their phone for longer periods of time. But that really doesn't seem like a valid explanation.
were sold
in the period as opposed to 62 million Apple iPhones that Apple reported as being sold during those two years. That comes closer to the mobile video traffic percentages than the IDC figures based on Samsung's "shipments".
While not perfect proof of the validity of this theory, if you
look at the percentage of smartphone profits in 2012
, Apple was responsible for 69% of smartphone profits last year. If Apple sold only 19% of North American smartphones, even with ridiculous margins, there is no way it could account for nearly 70% of profits. It is quite possible that end user sales of Android models are not as robust as thought. This would mean that the Android shipping figures
overstate
actual real world market share and other data.
Perhaps it is time for some organization to come to some decision on what standard to apply here. Or perhaps it just is not a big enough issue for the manufacturers to get involved in. But unless something changes, we are comparing Apples with
oranges
Android.
source:
electronista