Dissension amongst the ranks: Acer executive doesn't approve of Surface
27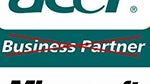 At Microsoft's surprise
Surface event
last week, CEO Steve Ballmer indicated that they had alerted Windows OEMs to their tablet plans
before the announcement
. When asked what the OEMs thought about it he demurred from answering, tossing out the line that he was sure "they would opine" on the subject soon enough.
It turns out that Acer is quite happy to opine, and they aren't very impressed with Microsoft's foray into the world of Windows hardware. Acer senior VP Oliver Ahrens said that Microsoft's attempts to mimic Apple's success combining hardware and software were probably not going to work.
As Ahrens explained:
"Microsoft is working with two dozen PC vendors worldwide, including the local guys, whereas Apple is alone, it can more or less do what it wants. Microsoft is a component of a PC system. A very important component but still a component."
Ahrens also expressed concern that Microsoft's tablet ambitions could lead to Microsoft splitting its focus between Windows 8 software development and growing its retail and hardware chops. Given how radically different Windows 8 (and Windows RT) will be compared to previous versions of Windows, anything but a fully polished and perfectly executed product could lead to a Windows Vista-style sales debacle, which would hurt the entire Windows ecosystem.
We imagine that Acer isn't the only Windows OEM that is
frustrated right now
. With Microsoft apparently relying on the strength of Windows 8/RT sales to try and grow interest in their flagging Windows Phone division, a Vista-like launch would be a much larger disaster this time around than it was with the actual Windows Vista, which existed before the post-PC movement had really taken root.
What do you think? Will Surface work to Microsoft's benefit, or will it hurt them in the long run by distracting them from perfecting the software and supporting their OEMs? Sound off in the comments below.
source:
Business Insider
Recommended Stories