Display Comparison: Apple iPhone 5 vs Samsung Galaxy S III vs HTC One X vs Nokia Lumia 900
99+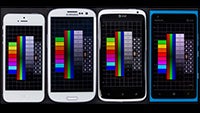 Introduction:
Initial impressions make a whole lot of difference, especially when a handset is being showcased alongside some other comparable models at a store window or shelf. Gazing from a distance away, it's usually the handset's design that captures the attention of people first and foremost, but upon closer inspection, the next thing to reel them in is none other than the kind of display they're packing along for the ride. New to the scene, Apple's latest incarnation of the
iPhone
is being dissected top to bottom from critics all around, but for this comparison article, we're going to see how its newer
4-inch Retina Display
stacks up against some of its other highly esteemed rivals.
For this comparison, we're going to be pitting it against the
4.8-inch HD Super AMOLED display
of the
Samsung Galaxy S III
,
4.7-inch 720p Super-LCD 2 display
on the
HTC One X
, and the
4.3-inch ClearBlack AMOLED display
that's being flaunted by the
Nokia Lumia 900
. Needless to say, this is one stacked group already, so it'll be interesting to see how they fall fare against one another – to hopefully proclaim the best one out of the bunch! In order to make that final call, we're going to go beyond the hardware specs and see how they perform in real world situations, since you know, that's exactly what matters most.
Brightness and Contrast:
There's nothing better to attract people than having a bright display, right? Well, as we manually set all four smartphones to their highest brightness setting, it becomes clear that the iPhone 5's newer IPS-LCD screen jumps at us the most with having the highest brightness output. Having the advantage in this category, we're able to visibly make out everything on the iPhone 5's display when using it outdoors – even when the sun is beating directly down on us. Coming in at a close second place, the Super-LCD 2 panel in use by the HTC One X continues to show its worth, since it's an LCD panel at heart, which continues to shows its worth in outdoor conditions as well. And finally, the Samsung Galaxy S III and Nokia Lumia 900 land on the same level in terms of outdoor visibility, as their respective HD Super AMOLED and ClearBlack AMOLED panels aren't as effective in allowing us to properly see them outside. At the same time, the drop in contrast while tilting them slightly causes reflections that interfere with their usability.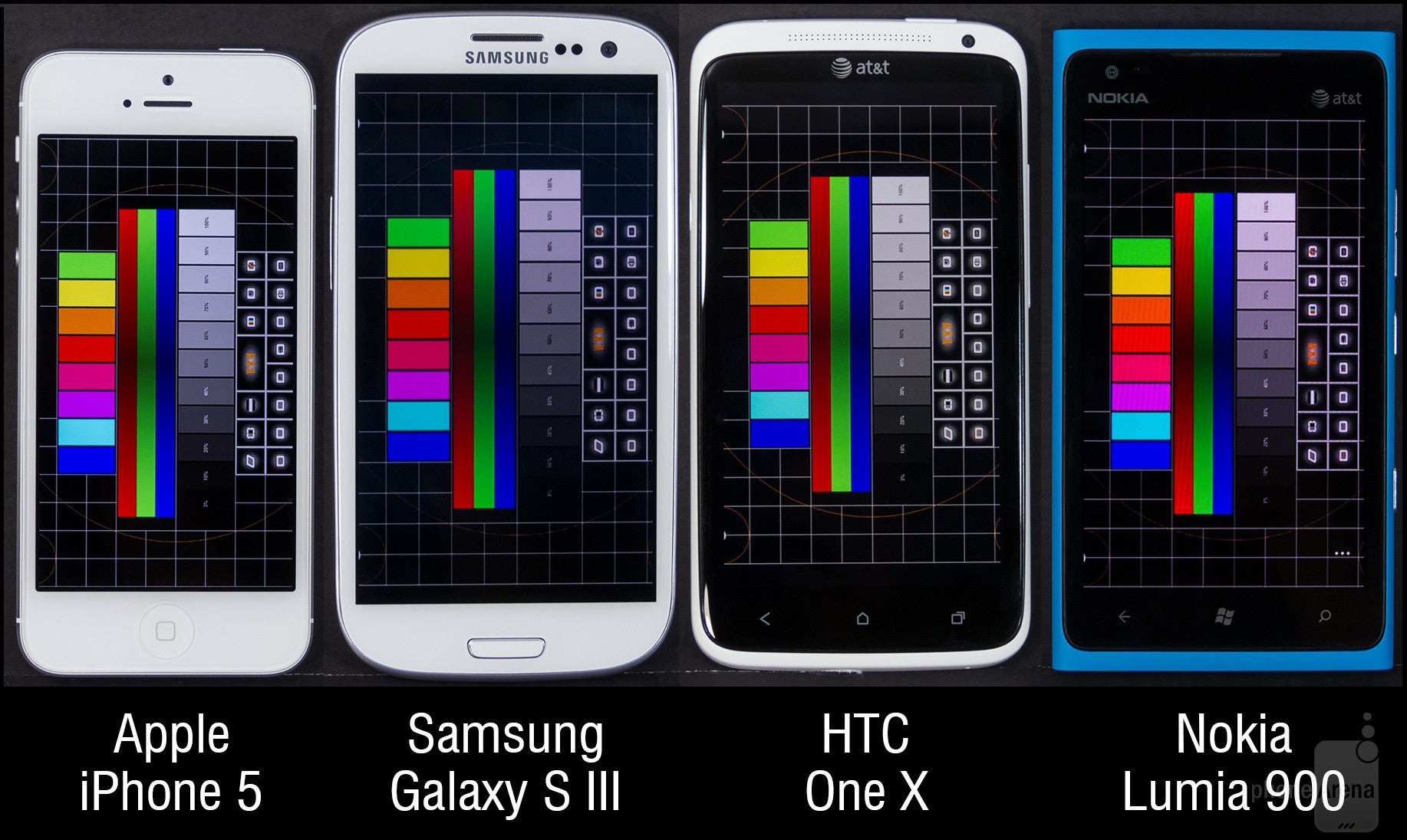 Resolution:
Quickly looking over the specs sheet, one would assume that the two Android smartphones donning 720p resolution in this comparison would have the win, but again, that's simply on paper and doesn't account for pixel density. However, if we do take that into consideration, then it would be the iPhone 5 taking charge with its pixel density of 326 ppi. However, before we concretely say that it's the unanimous winner in the details department, our eyes need to confirm the obvious.
Loading up our web site on all four smartphones and looking at them from a zoomed out view, it's undeniable that the 640 x 1136 resolution of the iPhone 5's display exhibits the sharpest details of the bunch. In fact, the text on-screen have sharp edges that help strengthen its crisp visuals to make them easily visible to the eye. Meanwhile, the HTC One X's 4.7-inch 720p display also coughs up some exciting visuals as well – though, it's a tad bit softer looking around the edges, partly due to its lower pixel density of 312 ppi. Galloping into third place, it's the 720 x 1280 resolution of the Samsung Galaxy S III's 4.8-inch display. Even though it's sporting the same resolution as HTC's flagship, Samsung's baby employs the less favorable PenTile Matrix arrangement, which is noticeably duller looking with its details. Regardless of that, its deficiency doesn't adversely affect the look of its details while looking at its display from a normal distance away. And finally, the Nokia Lumia 900 fails to impress in this department with its 4.3-inch WVGA (480 x 800) display, as its far away 217 ppi pixel density drastically separates it from the competition – resulting in jagged looking visuals that lack any sharpness to them.