Director of Windows Phone says Microsoft "needs to go pick a fight" with competitors
10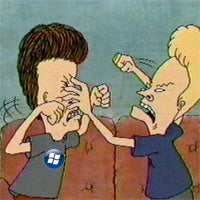 It's not new news that while Microsoft is starting to make waves with Windows Phone, particularly in Europe with Nokia, overall, it is still severely lagging behind its competition – Android and iOS. The Redmond-based giant has started to launch initiatives to advertise the strength of Windows Phone,
such as the Smoked by Windows Phone campaign
, but even the Director of Windows Phone, Aaron Woodman, thinks they need to do more.
In an interview at the Mobile World Congress, Woodman talked about the next year to 18 months being critical for Microsoft to begin to see an increase in market share. "
It doesn't feel like we're really pushing apart from the competition,
" Woodman said. "
We need to go pick a fight.
"
So what kind of fight is Microsoft going to pick? It isn't exactly clear, but Woodman did say they would be expanding the Smoked by Windows Phone campaign over the next six months. Based on that, we would assume the challenges, where participants compete against a Windows Phone in a variety of tasks with their handset of choice, will become more aggressive and target certain competitors.
source:
Bloomberg