Dining alone? Ramen bowl cup will hold your phone to cheer you up
16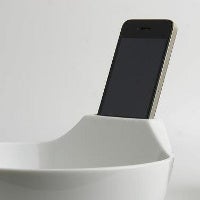 Loneliness is a terrible feeling and as much as we love technology we have to admit that sometimes it is caused by our addiction to it, not helped by it.
Still, watching a movie or reading something interesting can be fun when you are on your own and that's where this idea of a ramen noodle bowl with a phone holder comes in, courtesy of MisoSoupDesign.
It's more sophisticated than it looks like and when the bowl is empty it'd serve as an amplifier for your iPhone's speaker. It's absolutely real and the company is now accepting pre-orders with limited quantities available. The release date should be in April or May.
So to sum it all up, it's a bowl with a phone holder so you can watch movies to get rid of the loneliness. But, you know, you'd better just eat out and meet someone, that might also help.
source:
Eater