Digital magazine sales doubled last year, still trail print by a country mile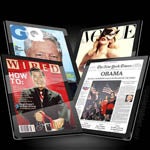 Despite the
growing popularity
of tablets, the era of the digital newsstand has been somewhat delayed, first by publishers that were reticent to embrace the digital platforms they saw as undercutting print; later there were squabbles over who would control the platform and
how much of a cut
companies like Apple would get, and finally, there was the expected learning curve as digital magazine content struggled with delivering a product that met the expectations of tablet owners.
Those early woes seem to be subsiding, as numbers released by the Audit Bureau of Circulations shows that
digital subscriptions more than doubled between the second half of 2010 and 2011
, growing from 1.46 million to 3.29 million. Digital circulation still makes up a mere 1% of paid and verified customers, but it's growing quickly. Hearst Magazines is averaging 530,000 digital sales per month in the first quarter of this year, and expects to reach the million-a-month mark by the end of the year.
In an industry facing stiff competition with free online content, this is good news. "
Part of the good news here is that paid digital for us is growing very quickly
," said John Loughlin, executive VP and general manager at Hearst Magazines. With Apple's
briskly-selling
new iPad, the continued popularity of inexpensive tablets by
Barnes & Noble
and
Amazon
, and the rumored
Google tablet
with a similar price point still expected in the first half of 2012, the future of digital print is starting to look promising.
Do you subscribe to any digital magazines? If not, is it a lack of content, differentiation, or what? Let us know in the comments below!
source:
Ad Age
via
electronista