Did you know that the first phones with a 5000mAh battery are coming next month?
48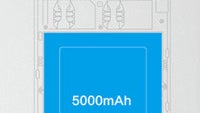 The single most-quoted complaint about current-day smartphones seems to be their poor battery life. Most recent flagships now easily last a full day, but even they, with their batteries in the vicinity of 3000mAh capacity, find it hard to go without a re-charge for longer than two days in most cases. But what if there was a phone that could last much longer, what if a phone maker would just make a handset with, say... a 5000mAh battery!
You might think it's impossible - no first-tier company has ever done this after all, and you'd be quick to judge us and say this is nothing more than just wishful thinking. These days, two companies went against all odds and each unveiled a phone with such a fantastically huge juicer. You probably have not heard about these companies - after all, they are not from the first-tier list of Apples, Samsungs, LGs, HTCs, and Sonys we hear about on a daily basis.
The ThL 5000 has the same 13-megapixel Sony IMX135 image sensor as the LG G3
The first such daring company to make the dream of a 5000mAh-battery phone a reality is Chinese Eton, with the
Eton "Thundergod"
(or Eton "Thor", the translation from Chinese is approximate). You'd think that such a phone would be much thicker than what's on the market right now, but in reality that's not the case either - the Eton Thundergon is not razor thin at 0.35 inches (9mm), but we would not call it thick either.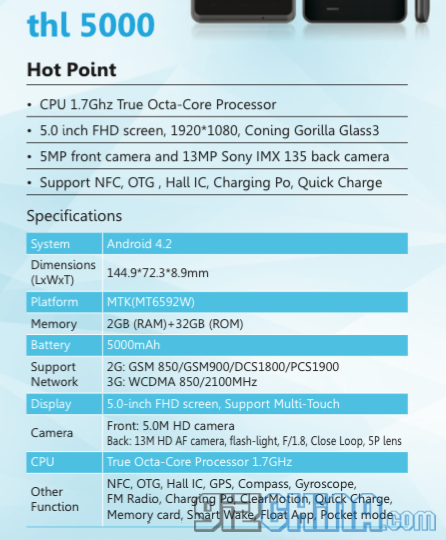 Shortly after, a larger Chinese phone maker followed. ThL (a company the name of which hilariously stands for "Technology Happy Life") unveiled its
ThL 5000
, a straight-forward name for its first Android smartphone with a 5000mAh (silicon anode Li-Po) battery. In fact, the ThL 5000 has the same 13-megapixel Sony IMX135 image sensor as the high-performance LG G3 (but we're yet to see how the two compare in terms of actual image quality).
Most importantly, though, the THL 5000 comes with the promise of 1000 hours of standby longevity, 47 hours of talk time, 11 hours of web browsing, 125 hours of audio listening, and 11.6 hours of video play.
The two phones are expected to arrive in June, and best of all, their price hovers around $300 off-contract, nearly half the price of first-tier flagships.