Did you know that Samsung announced a watch phone in 1999?
23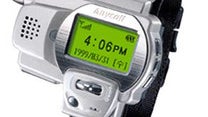 As we mentioned in a recent post – one where we traced back the
history of smartwatches
– bright minds have been trying to augment the functionality of our wrist-worn timepieces for decades. Their ideas paved the way for modern smartwatches like the Moto 360, the LG Watch Urbane, and, of course, the Apple Watch to materialize. However, the decade-long history of smartwatches has also seen quite a few failed attempts at delivering a decent high-tech watch to the masses. One such attempt was the Samsung SPH-WP10, which is considered to be the first, and still one of the very few, watch phones.
Inspired by wrist-worn communication devices seen in sci-fi flicks, Samsung announced the SPH-WP10 in 1999. At the time, this was the smallest and lightest "wireless terminal" ever produced, and its design truly reminisced of something pulled out of Star Trek. By today's smartwatch standards, however, Samsung's watch phone was neither light, nor thin – it weighed 50 grams (1.78 ounces) and had a thickness of 2 centimeters (0.78 inches), not to mention that an antenna was sticking out of its side.
What could it do? Well, the Samsung SPH-WP10 combined the functionality of an electronic watch with that of a cellular handset, although it didn't quite excel at being either. In a nutshell, it was a cell phone you could wear on your wrist and make calls on for up to 90 minutes – that's how long the battery could last for. The wearable had a back-lit, monochrome LCD display and physical buttons for navigating through menus. Also, one could dial a particular contact using voice commands. Dialing a number or inputting text, however, were frustrating tasks as the device lacked a proper keyboard.
Even though its maker had high hopes for drawing the youth market's attention, the Samsung SPH-WP10 didn't do well and didn't spawn any sequels. That was probably due to the gadget's odd looks and its frustrating controls, or simply because the whole watch phone concept was ahead of its time. Fortunately for Samsung,
its wearables are now selling better
than those by most of its competitors.