Did you know: over 50% of app users find Push notifications so annoying!
13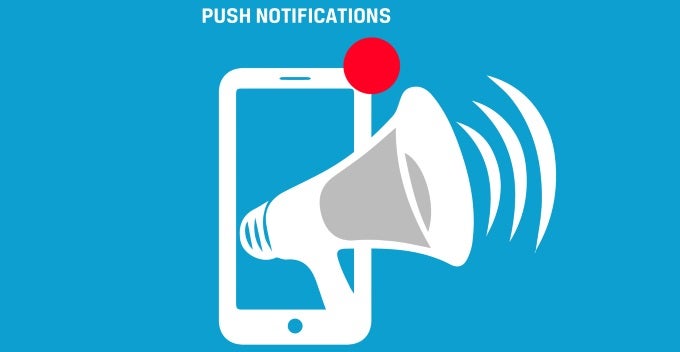 Every smartphone user has had their notifications drawer fill up with all sorts of prompts from the different apps they have installed. Some applications are pretty tame with how they treat Push notifications. Usually, they are popular apps of high quality that rank highly in app stores. But for each cool app like that, there are hundreds more that represent its direct opposite. They look bad, operate poorly, and get downright scummy in the way they unload a barrage of pointless, distracting alerts in your drawer on a daily (heck,
hourly
) basis!
No wonder, then, that smartphone users harbor mixed feelings on the matter. According to a survey by Localytics and Research Now, 52% of the respondents are adamant that Push notifications are way too... pushy. "An annoying distraction," in their collective words. Apparently, this type of alert has grown an unwelcome reputation, which isn't surprising considering over 35% of users described the notifications they received as generic "broadcast blasts" with no relevancy.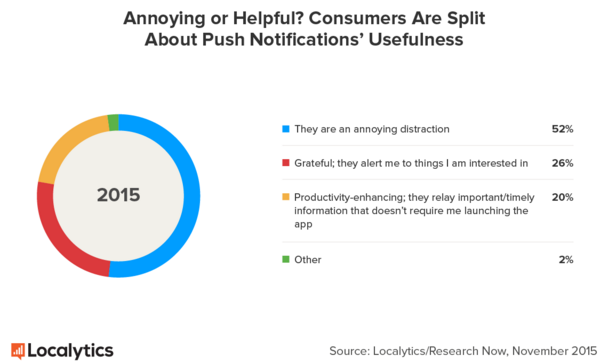 Click or tap the image to zoom in.
Big as it is, the anti-notifications contingent doesn't have the final judgment on the case. The other half of the respondents actually found Push messages useful, as in their experience, the messages pointed them towards things they are interested in, or served valuable content – productivity-enhancing information that doesn't ask of them to distract themselves with launching an app.
So, how do we make sense of the situation? The researchers maintain that there is a happy middle ground where app developers and users peacefully co-exist. The survey team straight-up asked users what they actually want Push notifications to be, and the singular response was "personalized content". It could be centered on anything – favorite sports teams, clothing, cool spots nearby, killer deals. The core idea is that notifications shouldn't distract users with content centered on the app that the alert originates from – pesky prompts like "Upgrade to Pro version now!" or announcements that read like excerpts from a glorified newsletter.
Push notifications are way too... pushy.
Rather, app makers need to know their audience better so their products can generate meaningful push messages and make users return to the app. They should also make a point of not bombarding them with alerts, as research shows that the threshold of annoyance is actually pretty low – receiving between 2 and 5 messages in one week would cause 46% of respondents to disable Push notifications, and 32% would outright stop using an app if they received 6 to 10 messages weekly.
What's your stance on Push notifications? Tell us about your best and worst experiences with them in the comments section below!