Did you know: Xiaomi's new MIUI 6 skin is the most shameless iOS rip-off you'll ever see
99+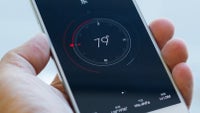 Xiaomi, a company often called 'the Apple of China', has just unveiled images of its newest MIUI 6 Android skin, and it takes a lot of inspiration from the design aesthetic of Apple's iOS 7 and 8.
Starting with the transparent, through-the-glass looks of backgrounds and wallpapers, going through the similar, flat style and single-color backdrop for icons, and finishing off with the appearance of apps like the calendar, compass, timer, calculator, and so on that are a nearly identical copy of their Apple counter-parts, it seems that Xiaomi did not shy away from taking the best out of Apple's system quite literally.
The strange thing is that these fresh new screenshots from MIUI 6 come right after ex-Googler and current international VP of Xiaomi defended the company, saying it's not copying Apple and instead putting the blame on the media. The accusations, however, have a comical undertone as Xiaomi's latest event featured CEO Lei Jun wearing a black turtleneck like Steve Jobs, holding a similarly orchestrated presentation, and featuring a 'one more thing' slide at the end. The MIUI 6 builds on that tradition, but will this be enough to awaken Apple's legal department? Let us know your thoughts below.