Devices featuring Alexa and Cortana will be able to swap virtual assistants
1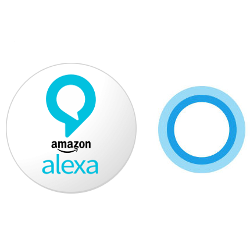 With 2017 arguably the year of Alexa, the virtual personal assistant category itself was in the news often, thanks to the emergence of smart speakers. The relatively new device, led by Amazon's Echo and Echo Dot, has branched out into the latest new "smart" tech product that could end up under many Christmas Trees and inside Chanukah gift boxes this holiday season. Each smart speaker utilizes a virtual assistant. The Amazon Echo uses Alexa, Google Home has
Google Assistant
, the Invoke features Cortana and the Apple Home Pod is equipped with Siri.
This morning, Microsoft and Alexa announced that devices with Cortana and devices with Alexa will be able to "speak" with each other. This means that on any device where Cortana is available (Windows 10, iOS and Android) asking Cortana to open Alexa will allow the user to order products from Amazon, and access the 20,000 third-party Alexa skills that the personal assistant offers.
On the other hand, if you own an Echo device, you can ask Alexa to open Cortana. This will allow you to have your emails read, remind you to pick up milk on the way home, and access your calendar to make sure that you don't miss that important meeting.
"Ensuring Cortana is available for our customers everywhere and across any device is a key priority for us. Bringing Cortana's knowledge, Office 365 integration, commitments and reminders to Alexa is a great step toward that goal."-Satya Nadella, CEO, Microsoft

"The world is big and so multifaceted. There are going to be multiple successful intelligent agents, each with access to different sets of data and with different specialized skill areas. Together, their strengths will complement each other and provide customers with a richer and even more helpful experience. It's great for Echo owners to get easy access to Cortana."-Jeff Bezos, founder and CEO, Amazon
A report today in the
New York Times
says that the idea was brought to Microsoft CEO Satya Nadella by Amazon CEO Jeff Bezos. The thought is that two virtual assistants are better than one, especially in a highly competitive market. The collaboration between Alexa and Cortana (or Amazon and Microsoft if you prefer) will start later this year.
source:
Microsoft
,
Amazon
via
NYTimes