Developers already getting on board with Chromecast, we catch a couple smooth "alpha" demos in action
10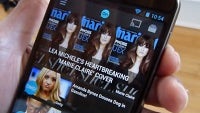 Chromecast is already fully supported with YouTube (no surprise there) and Netflix, two services that account for nearly half of all video content streamed on the internet around the world. However, Google has released the APIs for developers to incorporate Chromecast into their apps.
Two such developers were on the scene,
AOL
and
Songza Media.
We got to talk to reps from each and see how their apps were performing with Chromecast.
What you will notice from the two demo videos below is that the user experience part is insanely simple and uniform in nature. That is by design of course, plug it in, set it up and use familiar form factors with existing applications to control media content on your TV and entertainment system.
The apps look ready don't they? They are not fully baked though and a Google rep told us that the simplicity of the user experience can make for some tricky tweaking work for the developers to ensure everything performs as designed, but the apps themselves do not require much in the way of re-writing. Given the looks of things for AOL's On app and Songza, the ecosystem of media related apps is certain to grow very quickly given how easy Chromecast is to use for just about anyone.