Deutsche Bank says analysts are too bullish on the Apple iPhone 8
11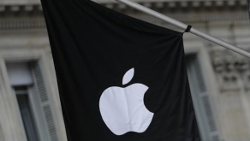 A vast majority of the analysts who have publicly commented on their estimates for
Apple iPhone 8
sales or shipments, have been bullish about the device. Back in March, Morgan Stanley tech analyst Katy Huberty said that she expects Apple to sell 20% more iPhone units on a year-to-year basis in fiscal year 2018, thanks to the 10th anniversary model. That translates into
a 30% gain in revenue for the year
. KGI Securities analyst Ming-Chi Kuo, considered the top in his craft, said last year that
the iPhone 8 could be the best selling iPhone model of all time
. The phone would have to sell in excess of 120 million units over 12 months to top the current title holder, the
Apple iPhone 6
.
But not all trading houses are bullish about the iPhone 8. Germany's Deutsche Bank says that Wall Street's expectations for the device are too high, and that the launch of the 10th anniversary model will result in a regular cycle of iPhone sales, not the "supercycle" that some analysts are predicting. For example, Nomura Securities stated at the beginning of this year that
the last iPhone supercycle took place in fiscal year 2015 with the launch of the iPhone 6
, as Apple increased the size of the iPhone's display and debuted the 5.5-inch iPhone Plus phablet.
With the iOS base now 45%-50% larger than it was back then, according to Nomura analysts Jeffrey Kvaal and Gregory McNiff, the pair expect Apple to sell 86 million iPhone handsets during Q1 of fiscal year 2018. That period runs from October through December of 2017. The Wall Street consensus calls for sales of 80 million iPhone units during that time period.
For all of fiscal year 2018, which runs from October 2017 to October 2018 for Apple, Deutsche Bank sees Apple shipping 230 million iPhone units compared to the 231 million units it delivered at the start of the last supercycle in fiscal year 2015. To show you how bearish the German bank is compared to the rest of the Street, money center trading houses expect Apple to ship 244 million handsets during fiscal year 2018. Deutsche Bank says it can not fathom where Wall Street expects all of these iPhone buyers to come from in fiscal year 2018.
"The market has become overly optimistic on iPhone's potential sales into the upcoming iPhone launch this fall, and is ignoring the fundamental challenges Apple faces in the smartphone market, which include saturation in mature markets, elongating refresh cycles, declining share plus increased competition in China, and a growing secondary market."-Deutsche Bank
source:
CNBC