Nomura Securities expects a huge supercycle for iOS to begin with the 2017 Apple iPhone 8
14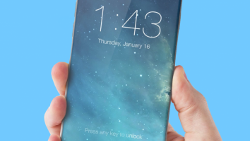 With the beginning of the new year, many Wall Street types, smartphone fanatics and even consumers who don't obsess about these devices, are thinking about what Apple might have in store for this year's iPhone. Nomura Securities analysts say that Apple is on the verge of a new supercycle that will go well beyond anything that the company has seen before.
According to Nomura, the last supercycle took place in 2014 when Apple increased the screen size of the iPhone to 4.7-inches, and introduced the 5.5-inch iPhone Plus phablet. That was, of course, the
Apple iPhone 6
series. Apple set records for profits and sales that year.
Now, Nomura expects that the 2017 Apple iPhone 8 has the backing of an iOS base that is 45% to 50% bigger than it was in 2014. Nomura analysts Jeffrey Kvaal and Gregory McNiff call for 86 million iPhone units to be sold in the company's fiscal first quarter of 2018. That runs from October through December of 2017, and includes the holiday shopping season. The consensus on Wall Street is for 80 million iPhones to be sold in that time period. But as Kvaal and Mc Niff point out, anyone with an iPhone 6 is a potential buyer. The analysts say that the iPhone 6 series increased the iOS base by 35% with a 5% to 10% increase from the iPhone 6s and iPhone 7 models.
"Consensus calls for 80 million iPhones in F1Q18 (Dec '17) ... only modestly above the iPhone 6 supercycle (75 million). However, we estimate the iPhone 8 will launch into an iOS subscriber base 45-50% larger than the iPhone 6 did and model 86 million iPhones in F1Q18 (from 83 million)."-Jeffrey Kvaal and Gregory McNiff, analysts, Nomura Securities
KGI Securities superstar Apple analyst Ming-Chi Kuo says that the looks of the Apple iPhone 8 could trigger demand for the phone, especially if the specs top those on rival handsets. The model,
code named Ferrari
, is expected to have an edge-to-edge glass display with Touch ID embedded into the glass.
In three days, Apple will celebrate the tenth anniversary of
the introduction of the Apple iPhone
which launched later that year (June 29th) as an AT&T exclusive in the U.S.
source:
BusinessInsider