Deus Ex: The Fall landing on iOS July 11
6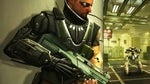 This year's winner of various 'best mobile game' awards at E3, Deus Ex: The Fall, is coming to iOS devices on July 11. The price tag is $6.99 and users will, naturally, be able to get the game from the iTunes App Store.
Fans of the Deus Ex: Human Revolution game will most probably enjoy The Fall, as it will further develop the storyline. The game is still a first person shooter, graphics look amazing and the atmosphere is pretty much identical. But how did the game transition from keyboard and mouse (or a gamepad) to touch controls? Square Enix made the movement possible in two ways: players can either use the regular two-thumbs-to-move-and-aim method, or a new method of double-tap moving. Tapping on cover also hides you from danger and a simple swipe will put you back on track. As far as aiming is concerned, you can simply tap on the enemy you want to take down and press the corresponding fire button till he drops dead. Not very subtle, yet effective, because aiming can be hard with touch-based controls, so we like that idea.
The game is still set in 2027 and gamers can find different archives, documents, or dig up emails to read and discover new details about the story. Some in-app purchase options will be available too. Although players will earn credits, allowing them to perfect their augmentations, they will also be able to obtain them the easy way by simply buying them using real money.
Check out the game's E3 presentation:
source:
Joystiq
via
Engadget