Deus Ex: The Fall goes on sale for $1.39 on Android and $0.99 on iOS
10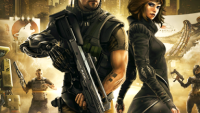 Eidos' Android and iOS shooter, DeusEx: The Fall, will be on sale for $1.39 on Android and $0.99 on iOS until Monday, March 10. If youown a recent device, but are yet to play as an armedto the teeth, biologically augmented ex-SAS merc from 2027, now's theperfect time.
The Fall is an original storyline setinside the universe of the PC and console title Deus Ex: HumanRevolution. The mobile game represents the same story-drivenaction-RPG played from a first-person perspective. It can becompleted both in a sneaky, stealthy manner, or as a "run andgun" adventure. It features an advanced presentation and richgameplay for a mobile title.
If you decide to pull the trigger onThe Fall, head to the links below while the promotion is still hot.
Download Deus Ex: The Fall ($0.99):Android| iOS