Designer military grade iPhone 4 case going, going, gone
4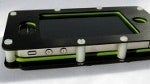 We've seen tough cases in our times, but this here Military Grade iPhone 4 Case really steals the show. It looks as something Soviet Russia might have equipped the devices on the Mir Space Station with, and is created by designer John Eicher.
It is built to withstand shock and vibration to the
810-G
military standard, but from the looks of it the most fragile part, the screen, is still somewhat exposed. Well, it needs to be touched, after all.
The rugged goodness was selling for $99 on Etsy, but it turned out to be a one-time shot by the designer, just for kicks. The listing says that "
the site
" will be fully functional February 9th, so we guess then you can order some more.
A variety of colors are available, both for the anodized metal parts, and the EVA foam, and the designer advises that if you are interested in your iPhone looking like that, you can place a custom order (but you might not get away with a hundred bucks). The designer also mentions that "
I... use basic antennae sending and receiving principles to maximize signal strength.
" There you have it.
source:
Etsy
via
Gizmodo