Dell prototype tablet spotted, featuring a slideout split-QWERTY keyboard
11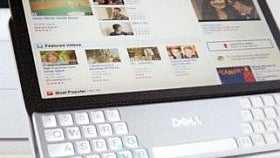 Engadget
got their hands on some pictures of a prototype 7-inch
Dell tablet
with a very unique form factor. Not only does it have a
full slideout QWERTY keyboard
, but the keyboard employs a
split-key design
, as we've seen in the upcoming iOS 5 for the iPad.
What's more, it appears that there might be a touchpad between the two halves of the keyboard, like a notebook. Of course, from the pictures below, you can see the obvious drawback to such a design: added bulk. And as we all know, the iPad has trained consumers to expect a sexy form factor along with their function. And a fat tablet might not survive.
The unidentified tablet also features a rear camera, but that's all we know thus far. Even the lone press still gives us no indication of what OS it will feature. But we think that the press still means Dell is considering bringing this buxom beauty to market. What do you think? Is the keyboard worth the extra thickness?
source:
Engadget