Dell is adding a 7" Android tablet to its lineup while the Streak will land in Best Buy
0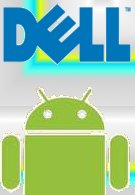 Wow, it surely has been one busy timefor the tablet market recently as we saw the Samsung Galaxy Tabbecome officially announced last week that it'll be coming to all four major carriers over here.Then we heard rumors about RIM expected to unveil their alleged tablet next week in San Francisco during DevCon.
Now Dell came out ofnowhere from left field to announce that they are going to have a 7"Android powered tablet, but sadly, there is no time frame or anytechnical specs regarding it just yet. Still, it'll be interesting to see ifthey can pull off a miracle by getting this to market just in timefor the essential holiday time period.
In addition, their smallersized Dell Streak will be hitting Best Buy stores next month, butwe'd imagine that consumers would be more than accepting to purchaseone if it receives a dose of Froyo. As for this new 7" tablet,let's just hope that Dell is able to fine tune this thing to meet thedemands of consumers looking for the most fresh Android tablet outthere.
source: Wall Street Journal