Deal: get the 32GB Motorola Moto X Pure with a limited-edition back cover at $349.99
8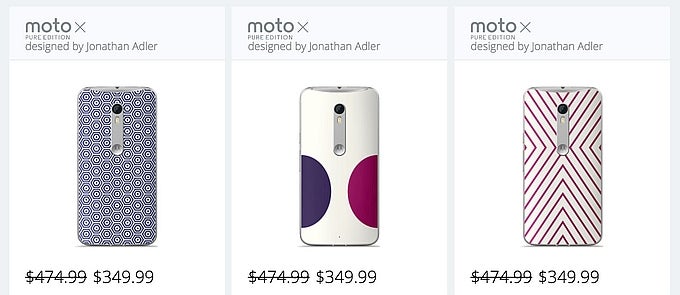 The 32GB
Motorola Moto X Pure Edition
with a limited-edition back cover designed by Johnathan Adler is currently priced at just $349.99 on Motorola's official website. That's a $125 discount compared to the usual retail price.
At the moment, the 16GB version of the Moto X Pure is available at $399.99. In other words, for $50 less than the price of the entry-level model, you get double the internal storage space, as well as a back cover that's usually priced at a $25 premium.
The limited-edition back covers come in three different flavors, Honeycomb, Half Circle, and Bridget, and all three models are available as part of this promotion.
With newer phones such as the Samsung Galaxy S7, the Apple iPhone SE, and the LG G5 gaining all of the spotlight, Motorola is trying its best to keep the Moto X Pure Edition at a competitive price. Up until last week, the 16GB version of the phone with a standard back cover was offered at $299.99 as part of a special promotion. If you've missed out on that deal, or have your eyes set on the 32GB version of the phone, Motorola's new promotion on the Moto X Pure Edition is just what the doctor ordered.
As a side note, you might want to consider investing the money that you're saving through this promotion in a case to protect your new purchase. If you're looking for some inspiration, make sure to check out our picks for the
9 best Motorola Moto X Pure cases
.
What do you guys think of Motorola's deal on the 32GB Moto X Pure Edition?