Deal alert: AT&T Samsung Galaxy S III price cut to $150
19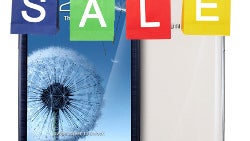 The
Samsung Galaxy S III
is gearing up for its US launch, and if that's the phone you've been saving for, good news is that you can get it for cheap early on - Target and AmazonWireless have both dropped the price to a mere $150 for upgraders on AT&T.
First, Target started offering the SGS III for $149.99 if you choose to give your AT&T contract a two-year extension, and then AmazonWireless dropped the price as well. Both offers are for the 16GB version of the handset, but luckily Samsung is shipping the Galaxy S III with expandable memory so you can bring your own microSD card of up to 64GB and have all the space you need.
Now, there's no catch, but you should know that the phone is on backorder right now so you probably won't get it on day 1. Still those $50 you save might be a good enough incentive to make that couple of extra days easier on you. Hit the source links below to check out both Target's and AmazonWireless' offers.