Deal: SanDisk's 200 GB microSD is down to just $59.99 for a limited time
16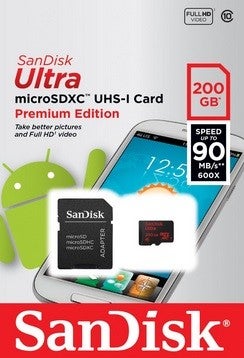 When SanDisk
rolled out its 200 GB microSD card
back in June of last year, the $239 asking price seemed fairly reasonable. In fact, it was something of a bargain given the $399 retail price suggested
upon its announcement
at MWC '15. In more recent times, the 200-gig card's price has fallen dramatically, with last month's
$89 asking price
having since been bettered by the
$79 cost in early March
. Today's deal, which runs for a very limited time, sees the price drop down to $59.99 over at Amazon, and even if you don't require all that real estate, the smaller storage options are also heavily discounted.
We always expect the per-gigabyte price of storage hardware to decrease as time goes by. But the SanDisk microSD story has been music to the ears of avid geeks. Whether you own a compatible smartphone, tablet or DSLR camera, a microSD card adds a great deal more potential in a minuscule package. As we've discussed before now, SanDisk is among the authority in this particular department, placing the latest deal firmly in the
cheap and cheerful
category.
The $59.99 is a saving of 76 percent on the list price, but as aforementioned, you don't have to go for the whole 200 GB if it's not required. There are similarly enticing price cuts on most denominations of SanDisk's range, with the 32, 64 and 128 GB offerings down to $9.99, $17.99 and $34.99 respectively.
The price change is not indefinite, and at the time of writing, there are 18 hours to run. If you've been waiting patiently for a price drop, we've a hunch that quality microSD storage won't get this cheap for a while.
Given the price, it is possible that Amazon could sell out before the end of the deal's duration. Thus, if you are interested, do hit up that source link sooner rather than later to avoid missing out.