Deal: LG G5 bundle with 360 Camera and 360 VR headset up for pre-order priced at $750
12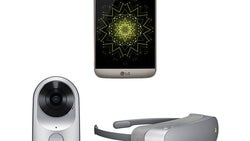 B&H Photo Video is now taking pre-orders for a VR-centric
LG G5
bundle that includes an unlocked phone, the LG 360 Cam, and the LG 360 VR.
The bundle is priced at $749.99, which is a $300 discount compared to the usual retail price of the three included products. One way to look at this promotion is that B&H is offering both the VR headset and the 360-degree camera at just $100 for those who purchase the unlocked LG G5.
A few weeks ago, before the official stateside launch of the new LG G5, B&H was the first retailer to reveal how much the two most important LG "G5" Friends accessories will cost. At the time, out feeling was that $199.99 a pop for the LG 360 VR headset and the LG 360 camera was a bit on the pricey side, seeing as both accessories and an unlocked LG G5 unit cumulatively cost about $1050.
Obviously, the LG G5 bundle that B&H has now made available for pre-order, containing an unlocked LG G5, the LG 360 Cam, and the LG 360 VR is very attractive for those looking for the complete 360-degree LG G5 experience.
We've already covered all of
LG's 'Friends' accessories for the G5
in detail, but just in case you need a refresher, the LG 360 VR is a virtual reality headset (compatible with the LG G5) that uses its own display to render content, unlike the Samsung Gear VR products, which use the display of compatible smartphones. In the other corner, the LG 360 Camera, is a device which, as the name implies, can be used to capture 360-degree videos which can be rendered by any VR headset or device.
Unfortunately, those interested in the B&H bundle for the LG G5 will have to wait until early May to get the devices in their hands.